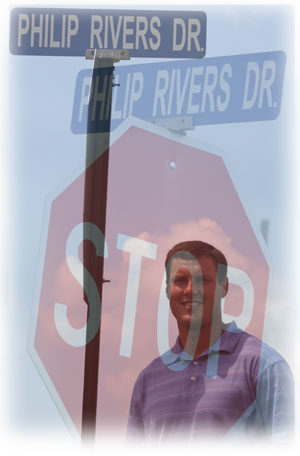 Philip Rivers Day at Athens
View Photos of street re-naming and the banquet here.
---
Athens High School honored former student and quarterback Philip Rivers by naming one of the campus streets to Philip Rivers Drive. The naming ceremony took place on Saturday, July 12th at 11:00 am.
The street was previously named Victory Drive and is directly south of Athens High School Stadium. The unveiling ceremony took place on the lawn of the stadium in front of the new street sign. The Athens High School Booster Club had Philip as a guest speaker on the same night at 7:00 pm for the 2nd Annual Legends Banquet at the Beasley Center of the First United Methodist Church.
Philip Rivers is currently the starting quarterback for the San Diego Charges of the NFL. Since he became the starting quarterback in 2006, River's 25 regular-season wins are tied with Indianapolis' Peyton Manning for the second-most in the NFL, behind only New England's Tom Brady's 28. Rivers has posted an impressive 25-7 record as a starter, including an astounding mark of 15-1 at home. Rivers led the Chargers to the playoffs in each of his two seasons at the helm, and in 2007 his stellar play in January helped the Bolts pick up their first postseason victories in 13 seasons as they advanced all the way to the AFC Championship Game. *
Selected to play in 2007 Pro Bowl, Philip was the recipient of Rodney Culver Memorial Award as Chargers Offensive Player of Year in voting by teammates. In the 2007 season, he shared the team's Most Inspirational Player Award with Carlos Polk. *
Just about everywhere he's played as a quarterback, Rivers has been a winner. Since his junior season at Athens High School in 1998, his first as a starting QB, Rivers has never had a losing record. He went 11-2 (1998) and 10-3 (1999) at Athens; 8-4 (2000), 7-5 (2001), 11-3 (2002) and 8-5 (2003) at North Carolina State, and with the Chargers he's posted seasons of 14-2 (2006) and 11-5 (2007). Rivers' collegiate totals at N.C. State included a 3-1 mark in bowl games. He was a five-time MVP in bowl games, including the 2004 Senior Bowl.*
*taken from the Chargers.c